OEM Components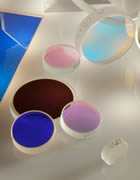 SLS Optics is an established OEM supplier. We offer medium and high volume production of high LDT optics at competitive prices.
We provide call-off management for all OEM orders and keep substantial stock available for rapid dispatch.
Our Stock Optics web database is updated daily. If none of the components available match your requirements, we will design and develop a custom part for you. Our sales personnel will be happy to assist with your enquiries and provide quotations.